Bone and Joint Specialists are helping Michigan area residents overcome their joint pain and get back to a healthier lifestyle. Our experienced physicians treat a wide range of orthopedic problems, whether treating a painful fracture, or repairing damage to a shoulder, hip or knee. Bone and Joint Specialists are dedicated to providing individual attention, developing personalized plans to fit each patient and ensuring patient satisfaction.
Over 27 million Americans suffer from osteoarthritis or severe joint pain and over 700,000 hip & knee replacements are performed each year. There are many causes of joint pain. Early Evaluation and treatment can provide pain relief even without surgery. Bone and Joint Specialists board-certified orthopedic surgeons, expert staff, state-of-the-art facilities, and comprehensive diagnostic and treatment techniques offer patients the most complete orthopedic care available in Oakland County, Michigan and the surrounding areas.
We offer comprehensive on-site services to get you back to your active lifestyle. Bone and Joint Specialists physicians and physical therapists are dedicated to injury prevention, physical therapy & rehabilitation and orthopedic treatments.
Our Board Certified Orthopedic Doctors focus on returning each patient to his or her previous normal activity level, whether that be in a sporting activity, work situation, or just activities of daily living. We employ the latest surgical advances, non-operative treatment modalities, and minimally invasive techniques for the knee hip and shoulder which are accompanied by earlier more aggressive rehabilitation programs. This makes it possible for each patient to return to their fullest potential faster. To learn more about different procedures and the staff visit: www.bone-joint.net
Bone and Joint Specialists Orthopedic Surgeons, Bartholomew and Kohen are excited to offer the minimally invasive signature custom knee replacement. hey were among the first orthopedic surgeons in Michigan to perform this procedure.
Dr. Richard Bartholomew is an expert on shoulder and knee reconstruction, including minimally invasive procedures, arthroscopic surgery, and joint replacement of the shoulder and knee.
Dr. Kohen has special expertise in reconstructive surgery of the hip, knee, and shoulder; including minimally invasive surgery, arthroscopy, and joint replacement of the knee, hip, and shoulder.
Dr. Bartholomew now offers the latest arthroscopic procedure to treat chronic shoulder instability. Developed by Dr. Laurent Lafosse, one of the world's leading arthroscopic shoulder surgeons, this technique can now be done via an all arthroscopic approach. This means less pain, and quicker recovery time. Dr Bartholomew has recently traveled to Anncey, France to spend exclusive time with Dr. Lafosse to learn this new technique.
Patients who are good candidates for this procedure are those with significant glenoid bone loss (>25%), failed soft tissue instability repair, generalized ligamentous laxity, certain types of capsular avulsions (i.e. Hagl lesions).
The Bristow-Latarjet procedure involves osteotimizing the coracoid process and transferring it to the anterior/inferior aspect of the glenoid through a split in the subscapularis muscle. This extra osseous surface area, in conjunction with the 'sling' effect of the conjoined tendon, provide excellent stability of the glenohumeral joint.
Dr. Richard Bartholomew treats painful shoulder conditions such as bursitis, tendonitis, calcium deposition, advanced arthritis, rotator cuff tears and frozen shoulder.
Platelet Rich Plasma (PRP) is an exciting new technology emerging in orthopedics and sports medicine. Injection of PRP is currently gaining widespread use in treatment of muscle, ligament, and tendon injuries. There is promising data showing quicker recovery times and stronger healing at the repair site in areas; such as lateral epicondylitis, patellar tendinopathy, ligament tears, and achilles tendinopathy to name a few. As well, there are encouraging studies and ongoing investigations into using PRP for stronger and quicker healing of the rotator cuff after arthroscopic repair.
PRP is defined as a sample of autologous blood with concentrations of platelets above baseline values. Platelets play an instrumental role in the normal healing response via local secretion of growth factors and recruitment of reparative cells. PRP is obtained from approximately 15-30cc of the patient's blood and using a centrifuge to separate RBC's, leukocytes, and platelets. With further concentration, plasma is divided into platelet-poor and platelet-rich portions. After isolation, PRP is usually administered with an activating agent such as calcium chloride and/or thrombin immediately before injection. This initiates platelet activation, clot formation, and growth factor release at the injection site. Platelets contain seven key growth factors: TGF-B, VEGF, IGF I&II, ECGF, PDFG-A&B, FGF and EGF. Several studies have demonstrated increased collagen gene expression and increased production of vascular endothelial growth factor.
This exciting technology is showing promising results with rotator cuff healing and return to activities more quickly by creating a more favorable biological environment for tendon to bone healing. Used in conjunction with minimally invasive arthroscopic techniques, we may see even better results for the more challenging large and massive rotator cuff tears as well as revision repairs.
Again, I thank you for your continued support. I look forward to continuing to provide our patients with the most technological advances in minimally invasive shoulder and knee surgery.
No wonder that our life is accompanied by pain joints and spine, morning stiffness and reduced mobility. The reason is that the human body has more than 180 bones connected by joints. So timely prevention and care for joints is critical.
Osteoarthrosis
The main cause of joint pain is osteoarthritis. It is a type of disease in which damage to the joint. Early problems occur only in movement, and later appear at rest. The most commonly affected by osteoarthritis are bearing joints, ie hip, knee and those of the spine. Typical is the increased sensitivity to cold and changing weather conditions.
The most common joint disease
Began to develop between 20 and 30 years without showing symptoms. Particularly at risk are actively Athletes and those who are overweight or perform heavy physical work
Ranks second among the causes leading to disability in men over 50 years (after cardiovascular diseases)
What happens in the joints?
In healthy joints there is a balance between the stress on the joint surface and resilience of cartilage and bone. With age or due to strenuous exercise, the cartilage covering the joint gradually wears. It thins and loses its elasticity. These changes lead to a restriction in movement, stiffness, crunching of movement and pain.
Osteoarthritis is a disease that requires prevention and early treatment.
Causes of osteoarthritis
Not yet clarified the etiology of osteoarthritis. Known only risk factors that trigger the disease.
Aging
Increased stress on joints (overweight, heavy physical work)
Trauma (micro trauma job, repetitive sports injuries)
Inflammatory joint disease
Heredity
Immune dysregulation
Congenital abnormalities of the joints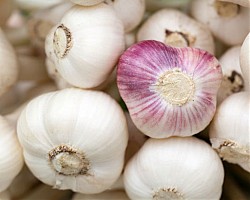 Garlic is a unique natural remedy for arthritis and pain of a different nature.
Garlic has been used to treat different types of pain and arthritis from time immemorial. It is especially effective in these conditions because anti-inflammatory and antioxidant properties. A sulfur compound in garlic – tiakremonon – helps the suppression of inflammation in the joints, causing arthritis and other pain.
Garlic also stimulates blood circulation and improves immunity. Contains Selenium – antioxidant activity against free radicals which are the main reasons for the development of arthritis and other health problems.
Garlic is equally useful and cooked and raw – depending on our preferences.
Raw garlic
We can eat raw garlic. Take 2-3 cloves, pressed them, put them in your mouth and swallow them. Garlic has a strong odor, which many people dislike. For them, it is recommended to drink a glass of milk immediately after eating raw garlic smell and soon it will disappear.
Daily intake of garlic helps to get rid of muscle and joint pain caused by arthritis and osteoporosis. But for some people, excessive consumption of garlic is not recommended because it can interfere with the normal operation of the immune system and cause heartburn.
Roasted Garlic
To derive maximum benefit from the healing properties of garlic can even roast it. Roasting helps reduce the strong and pungent odor and makes it more easily absorbed by the digestive system.
Cooked, garlic is more effective against the harm caused by free radicals. People with pain in joints and muscles is better to eat 3-4 cloves roasted garlic twice daily. Regular application of this method in a few days will lead to relieve aching joints and muscles.
Garlic – for a strong stomach
Garlic is an excellent natural remedy for heartburn and pain. They occur in such trouble digesting certain foods, and upset stomach due to bacterial infection. If you use garlic in dishes that we cook at home, it will help kill the bacteria that cause stomach pains.
Garlic oil
People, especially the elderly, are more susceptible to different types of pain. The reason is that the cartilage in the joints become stiff and rigid and the fluid between the joints decreases or completely disappears. Therefore, any kind of movement becomes painful. Garlic oil is beneficial in such cases.
Pressing a few cloves of garlic and fry them lightly in mustard oil. Add the steamed rice and salt and stir. In everyday consumption of such rice garlic butter pain can better be controlled.
Alternatively massaging with garlic butter (while still warm) on the aching body parts, especially on the joints. If used daily, will soon feel relief from both arthritic and other types of pain.
Garlic capsules and garlic powder
If you do not have the time or inclination to cook any of the recipes above, the market has different brands garlic capsules and powder. However, to keep dosage and directions for administration.
Garlic is readily available and inexpensive vegetable. Through it we no effort to relieve arthritis pain and, in addition, it is also useful for antiviral properties.
Summary: Joints can become painful for many reasons like disorders of several kinds. These require immediate treatment.
It is a normal thing for most aged people to complain about the pain in various joints of the body. Some of the times, the pain can become really unbearable and that can require immediate treatment so that the pain does not become chronic. Even if the pains are not because of any kind of disorders, they can still be extremely bothersome that can affect the lives of the sufferers in a negative manner. There are many treatment options available though that can treat the joint pains in an effective manner.
Although there are many treatments available, most of them offer temporary relief. But it is always better to look for options that will give the sufferers relief from the joint pains for longer period of time if not permanently. Most of the Joint Pain Relief can be obtained by treating the cause of the pain. Arthritis is one of the major causes for joint pain that usually occurs amongst the older people. Arthritis can be really bothersome since it worsens the condition of the patient with the progress of the disease until the joints become completely immobile. This happens because the joints are naturally lubricated which allows the flexibility to the joints. With the progress of age, the lubrication of the joint lessens and since the space between the bones decreases, they rub each other often and cause friction. This causes the pain.
This kind of joint pains are usually irreversible and also progressive and thus the suffering is unbearable. To get relief, you should go for appropriate treatment options. Treating the pains naturally simply means there are no side effects and there are no harmful chemicals involved in the treatment. Drugs that are usually used for the treatment of the joint pains are effective no doubt, but they also come with a lot of side effects as many times there have been reports of serious health implications. The natural process of healing does not provide immediate relief like the drug medication, but the effects are more permanent in nature and also have long term effects. Some of the natural approaches are exercises, diet and also consumption of certain joint pain supplements. These are the most effective and also natural approach for the relief of the joint pains. Having control over the diet and also opting for exercise can prevent further disorders like obesity which also have a major contribution when it comes to joint pains and arthritis.
Supplements for the joint pain are essential when it comes to treatment of the area in the most natural way. They contain natural ingredients that work in an effective manner. Thus these supplements can be used by people who suffer from issues with arthritis and can also be consumed by people who are into regular sports. Such supplements help people involved in sports and also people who suffer from joint pains in maintaining the flexibility and mobility of the various joints of the body while also helping them in strengthening of the joints.