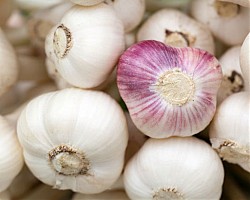 Garlic is a unique natural remedy for arthritis and pain of a different nature.
Garlic has been used to treat different types of pain and arthritis from time immemorial. It is especially effective in these conditions because anti-inflammatory and antioxidant properties. A sulfur compound in garlic – tiakremonon – helps the suppression of inflammation in the joints, causing arthritis and other pain.
Garlic also stimulates blood circulation and improves immunity. Contains Selenium – antioxidant activity against free radicals which are the main reasons for the development of arthritis and other health problems.
Garlic is equally useful and cooked and raw – depending on our preferences.
Raw garlic
We can eat raw garlic. Take 2-3 cloves, pressed them, put them in your mouth and swallow them. Garlic has a strong odor, which many people dislike. For them, it is recommended to drink a glass of milk immediately after eating raw garlic smell and soon it will disappear.
Daily intake of garlic helps to get rid of muscle and joint pain caused by arthritis and osteoporosis. But for some people, excessive consumption of garlic is not recommended because it can interfere with the normal operation of the immune system and cause heartburn.
Roasted Garlic
To derive maximum benefit from the healing properties of garlic can even roast it. Roasting helps reduce the strong and pungent odor and makes it more easily absorbed by the digestive system.
Cooked, garlic is more effective against the harm caused by free radicals. People with pain in joints and muscles is better to eat 3-4 cloves roasted garlic twice daily. Regular application of this method in a few days will lead to relieve aching joints and muscles.
Garlic – for a strong stomach
Garlic is an excellent natural remedy for heartburn and pain. They occur in such trouble digesting certain foods, and upset stomach due to bacterial infection. If you use garlic in dishes that we cook at home, it will help kill the bacteria that cause stomach pains.
Garlic oil
People, especially the elderly, are more susceptible to different types of pain. The reason is that the cartilage in the joints become stiff and rigid and the fluid between the joints decreases or completely disappears. Therefore, any kind of movement becomes painful. Garlic oil is beneficial in such cases.
Pressing a few cloves of garlic and fry them lightly in mustard oil. Add the steamed rice and salt and stir. In everyday consumption of such rice garlic butter pain can better be controlled.
Alternatively massaging with garlic butter (while still warm) on the aching body parts, especially on the joints. If used daily, will soon feel relief from both arthritic and other types of pain.
Garlic capsules and garlic powder
If you do not have the time or inclination to cook any of the recipes above, the market has different brands garlic capsules and powder. However, to keep dosage and directions for administration.
Garlic is readily available and inexpensive vegetable. Through it we no effort to relieve arthritis pain and, in addition, it is also useful for antiviral properties.
2 Responses to "Garlic – arthritis and pain"